Student Union
It's Graduation Season – Who Might Speak at Yours?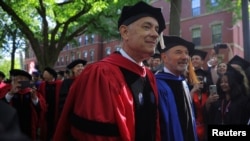 U.S. graduation ceremonies usually feature a public figure who offers advice to young people starting their careers. This spring, graduates have heard from President Joe Biden, actor Tom Hanks, Nobel Peace Prize winner Maria Ressa and even Ukrainian President Volodymyr Zelenskyy. Finnish Prime Minister Sanna Marin, who became the youngest prime minister in the world at age 34, told her audience that change cannot wait, even at their age. "To change things," she said, "you have to take over."
Read the story from Dan Friedell of VOA Learning English. (May 2023)
See all News Updates of the Day
International Students Should 'Know How Majors and Grading Work'
The U.S. college system is different from most others: Students are graded from A to F, and often choose their course of study — their "major" — one to two years after enrolling. Anayat Durrani of U.S. News & World Report explains the differences. (August 2023)
Hoping to Study in the US? Here's How to Secure Housing
AfterSchool Africa takes a look at the finer points of arranging accommodations for international students. Among the considerations: How close is the housing to campus? How safe is it? What about its proximity to public transit?
Why Aren't Americans Going to College?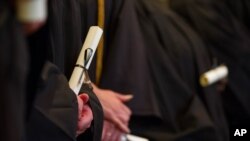 American college enrollments are falling, even as they are increasing in comparable countries. One culprit could be the cost: while college graduates earn more, the debt they accumulate often wipes out much of that advantage.
Paul Tough investigates for The New York Times Magazine. (September 2023)
Public Universities Went on Spending Spree ... And Passed the Cost to Students
Federal Student Aid Application in US is Changing
Every year, most American college students fill out the Free Application for Federal Student Aid. It determines how much need-based assistance you can receive and is also important for many scholarships, grants and other opportunities.
Now, the format is being simplified, as Cheryl Winokur Munk of The Wall Street Journal explains. (August 2023)