Student Union
Medical 'Match Day' Hampered by Travel Ban
"On the count of 3! 1, 2, 3! Open your envelopes!" #MatchDay2017 pic.twitter.com/udQxuSgmkJ

— Melanin, M.D. (@MelaninMD) March 17, 2017
For some medical students, getting a yes or no today is more important than finding the right life partner.
Today was Match Day, the annual day of the year when medical students found out which medical institution accepted them for a residency program. It's the step that follows four years of undergraduate work at medical school, and provides practical training in one of 21 specialties over three to five years.
This year, the National Residency Match Program (NRMP) that organizes the match, said the program was impacted by President Trump's Executive Order that bans citizens from six Muslim-majority countries from traveling to the U.S.
"The consequences of the [January 27] Executive Order are far reaching for match applicants, and the upheaval it is causing is extensive," stated NRMP Chair Maria C. Savoia, M.D., and Chief Executive Officer Mona M. Signer in a statement. "The affected applicants have worked hard for many years to achieve their goal of becoming physicians, and they should not be denied that opportunity because of a blanket policy that does not consider the individual."
While federal courts have put a temporary halt to the travel ban, immigrants or student holding visas have been delayed or rejected at the border. Students who travel home on holidays or breaks fear they won't return in time to the U.S. for school or programs. Medical programs typically start July 1.
"U.S. training programs should be able to select applicants based on their excellent character and qualifications, without regard to nationality. Both applicants and programs benefit from an orderly process for entry into graduate medical education," said Savoia and Signer. "The Executive Order disrupts that process very considerably."
Institutions who have a specific number of slots for these students worry their matches will be unable to start the program on time, said NRMP's Signer.
"It seems likely that residency program directors will be reluctant to rank J-1 visa applicants because they may not be able to enter the country to begin training," she said.
Almost 36,000 U.S. and international medical school students and graduates competed for the approximate 32,000 Match Day positions.
Fewer non-U.S. citizen "international medical school graduates," or IMGs, submitted program choices this year: 7,284 in 2017 vs. 7,460 in 2016. However, a greater percentage (52.4 percent) were matched with institutions, said NRMP, the highest match rate since 2005.
About 1,800 IMGs enrolled in accredited residency and fellowship programs in the U.S. are impacted by the travel ban, according to Thomas J. Nasca, M.D. and CEO for the Accreditation Council for Graduate Medical Education.
"These physicians are providing much needed medical care to a conservatively estimated 900,000 patients in urban, suburban and rural communities across the country annually. They are a too valued and welcomed group of colleagues," he wrote in a statement.
"Many communities, including rural and low-income areas, often have problems attracting physicians to meet their health care needs. To address these gaps in care, IMGs often fill these openings," wrote American Medical Association CEO CEO, Dr. James Madara last month. "These physicians are licensed by the same stringent requirements applied to U.S. medical school graduates."
"The medical education community must support all international medical graduates and their families during these difficult times," echoed NRMP's statement.
Do you want to be a medical student and doctor? Please leave a comment here, and visit us on
Facebook, Twitter, Instagram
and
LinkedIn
, thanks!
See all News Updates of the Day
What Did Justin, a Golden Retriever Mix, Do to Earn a Diploma?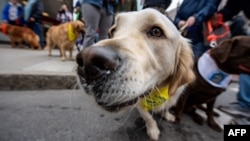 Justin is a service dog and accompanied his owner (who graduated with honors) to every single class for four years. The student's university honored the dog's hard work with his very own diploma, which he accepted, tail wagging, in front a cheering stadium of other graduates.
See Justin's walk across the stage in this story from Bill Chappell of NPR. (May 2023)
What Are US Diplomats Doing to Further International Education?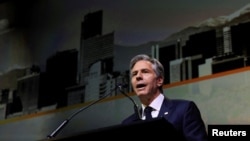 U.S. Secretary of State Antony Blinken touted his department's achievements in a recent address to NAFSA: Association of International Educators. The State Department has relaxed student visa and study abroad requirements. In fact, it issued over a half-million student visas last year – the highest number in five years. Blinken, who spent part of his childhood in France, thanked educators for "helping us to see the world through another's eyes."
Watch his remarks in this press release from the State Department. (May 2023)
Soon-to-Be Graduates Put COVID Behind Them
During the COVID-19 pandemic, learning lagged for students around the world, including the U.S., where many had access to online learning. Now these soon-to-be graduates say they are behind in certain subjects because of time missed at school. VOA's Laurel Bowman sat down with high school seniors on the cusp of graduation. Camera: Adam Greenbaum, Saqib Ul Islam.
Former US Congresswoman Liz Cheney Urges Graduates Not to Compromise With the Truth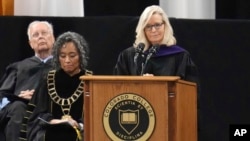 Former U.S. Congresswoman Liz Cheney implored new college graduates to not compromise when it comes to the truth, excoriating her House Republican colleagues for not doing enough to combat former President Donald Trump's lies that the 2020 election was stolen.
In a commencement speech at Colorado College, the Wyoming Republican repeated her fierce criticisms of Trump but steered clear of talking about his 2024 reelection campaign or her own political future.
Cheney, who graduated from Colorado College in 1988, recalled being a political science student walking into a campus building where a Bible verse was inscribed above the entrance that read, "Ye shall know the truth and the truth shall make you free."
"After the 2020 election and the attack of January 6th, my fellow Republicans wanted me to lie. They wanted me to say the 2020 election was stolen, the attack of January 6th wasn't a big deal, and Donald Trump wasn't dangerous," Cheney said Sunday in Colorado Springs, connecting her experiences as a student to her work in the U.S. House of Representatives. "I had to choose between lying and losing my position in House leadership."
In three terms in office, Cheney rose to the No. 3 GOP leadership position in the House, a job she lost after voting to impeach Trump for the Jan. 6, 2021, insurrection at the Capitol and then not relenting in her criticism of the former president.
Cheney's speech touched on themes similar to those she has promoted since leaving office in January: addressing her work on the House committee investigating the Jan. 6 2021 attack on the U.S. Capitol and standing up to the threat she believes Trump poses to democracy. She also encouraged more women to run for office and criticized one of the election-denying attorneys who worked for Trump after the 2020 election for recent remarks about college students voting.
"Cleta Mitchell, an election denier and adviser to former President Trump, told a gathering of Republicans recently that it is crucially important to make sure that college students don't vote," Cheney said. "Those who are trying to unravel the foundations of our republic, who are threatening the rule of law and the sanctity of our elections, know they can't succeed if you vote."
In an audio recording of Mitchell's presentation from a recent Republican National Committee retreat, she warns of polling places on college campuses and the ease of voting as potential problems, The Washington Post reported.
Most students and parents in the audience applauded throughout Cheney's remarks, yet some booed. Some students opposing the choice of Cheney as speaker turned their chairs away from the stage as she spoke.
Cheney's busy speaking schedule and subject matter have fueled speculation about whether she may enter the 2024 GOP presidential primary since she left office. Candidates ranging from Florida Gov. Ron DeSantis to former South Carolina Gov. Nikki Haley have calibrated their remarks about Trump, aiming to counter his attacks without alienating the supporters that won him the White House seven years ago.
Though some have offered measured criticisms, no declared or potential challenger has embraced anti-Trump messaging to the same extent as Cheney. She did not reference her plans on Sunday but has previously said she remains undecided about whether she wants to run for president.
Though she would face an uphill battle, Cheney's fierce anti-Trump stance and her role as vice chairwoman of the House committee elevated her platform high enough to call on a national network of donors and Trump critics to support a White House run.
A super PAC organized to support of her candidacy has remained active, including purchasing attack ads on New Hampshire airwaves against Trump this month.
After leaving office and being replaced by a Trump-backed Republican who defeated her in last year's primary, Cheney was appointed to a professorship at the University of Virginia and wrote "Oath and Honor," a memoir scheduled to hit shelves in November.
Two of Cheney's five children as well as her mother are also graduates of the liberal arts college.
Cheney's speaking tour appears to be picking up. She is scheduled to appear Thursday at the Mackinac Policy Conference in Michigan.
How Are Girls in Afghanistan Continuing Their Education?
After the Taliban retook power in Afghanistan in 2021, they severely limited access to education for girls. Yet a club founded in the U.S., Flowers for the Future, helps Afghan girls keep learning through Zoom meetings with U.S. students. Two students, one Afghan, one American, describe their journey with the program and what it's taught them about grit, resilience and the importance of learning. Read the essays by Mahsa Kosha and Emily Khossaravi in the Hechinger Report. (May 2023)