Student Union
New in the Glossary of Confusing Words: What's Up
Just to let you all know, the regular Monday
Glossary of Confusing Words
posts are a summer feature, for while our bloggers are on vacation. We'll keep doing it for a couple more weeks and then go on hiatus for a while, so get your words in now. If we don't get to your word, we'll save it up until the next vacation time, I promise. We're always willing to do words that are specifically related to applying for college/university though, so keep those coming throughout the school year.
Today's word: What's up?
When someone asks you "what's up?," they are asking you what's going on in your life, either in general or at that specific moment. It's pretty informal, and not to be used in business situations.
There are two basic ways "what's up?" is used in conversation:
1) As a very informal pleasantry. In this case, it would be the equivalent of "what's new?" or even "how are you?" and is asking whether anything is going on in your life.
A typical online chat could start something like this (I've had this exact conversation many times):
"Hey""Hey. What's up?""Not much. You?" "Not too much. How are things?"

2) To find out what someone is doing or what they need at that moment. This would be the equivalent of either "what are you doing?," "what's happening?" or "can I help you?"
Example 1:
"Hey, I have a question.""What's up?"I was wondering if..."
Example 2:
"You seem sort of sad.""Yeah, I am.""What's up?"
Here are a few famous uses of the phrase "what's up?" in American pop culture:
What's Up by Four Non Blondes
Wazzup Budweiser commercial
The Roxbury guys from Saturday Night Live
Have a suggestions for our Glossary of Confusing Words? Leave it in the comments or use the form below.
Loading...
See all News Updates of the Day
Psychologists at Virginia University Aim to Make International Students Feel at Home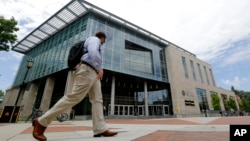 Virginia Commonwealth University has two staff psychologists specializing in intercultural issues. Their mission? To help international students adjust to life in the U.S. as seamlessly as possible. Read the full story here. (June 2023)
Are Declining Enrollments in the US a Hidden Opportunity for Students Abroad?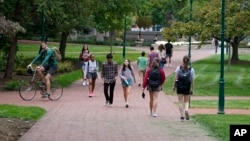 Allen Goodman, CEO of the Institute for Higher Education, writes that empty seats at U.S. colleges could drive a boom in international education. The U.S. has lost market share among host countries, but unlike its competitors, its university system is so large and underutilized that it could easily recruit more students. Because international students become "friends for life" with the U.S., and bring valuable expertise (and tuition dollars), Goodman argues the U.S. should recruit 2 million students by the end of the decade.
Weigh his argument for yourself in Times Higher Education. (May 2023)
What Could a Bitter Lawsuit Tell Us About International Education in the US?
In 2010, the University of South Florida signed a 30-year contract with INTO, a company that provides support services for international students. INTO built a "pathway program" at the university that taught students English and basic academic skills before they began their higher-education degrees. But after years of enrollment declines, the university ended the contract, and now both parties are fighting an "acrimonious" court case. The news comes as many of INTO's programs at other schools are being shuttered. While management and financial issues may play a role, so does the post-pandemic educational landscape: pathway programs can now be easily offered online.
Liam Knox of Inside Higher Ed has more. (May 2023)
Croatian Student Earning Simultaneous Ph.D.s in US, Croatia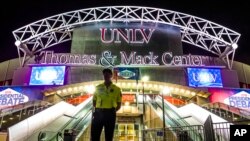 A Croatian student is earning two Ph.D.s simultaneously, one in Croatia and one at the University of Nevada, Las Vegas.
Borna Nemet spends his days at UNLV studying educational leadership and effectiveness. At night, he uses Zoom to teach students at the University of Zagreb in Croatia. Read the full story here. (May 2023)
It's Graduation Season – Who Might Speak at Yours?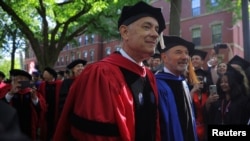 U.S. graduation ceremonies usually feature a public figure who offers advice to young people starting their careers. This spring, graduates have heard from President Joe Biden, actor Tom Hanks, Nobel Peace Prize winner Maria Ressa and even Ukrainian President Volodymyr Zelenskyy. Finnish Prime Minister Sanna Marin, who became the youngest prime minister in the world at age 34, told her audience that change cannot wait, even at their age. "To change things," she said, "you have to take over."
Read the story from Dan Friedell of VOA Learning English. (May 2023)