Ukraine
Ukraine War: 'Sometimes He Just Sends a Plus Sign and I Know He's Alive'
Ruslana Volynska has not seen her husband, Serhiy, in more than three months. He left for a rotation before the war and is now among the Ukrainian troops trapped at the besieged Azovstal plant in Mariupol. In her first interview with any news organization, the wife of Ukrainian Marine commander Serhiy Volynsky tells VOA about her fears for her husband and she shares what she knows about survival at the plant, how often he gets in touch, and why, for Serhiy and his comrades, every minute is worth a human life. She asked that her location not be disclosed for security reasons.
Voice of America: Ruslana, we are talking when it's already late evening in Ukraine. Has Serhiy been in touch today?
Ruslana Volynska: No, he hasn't. Not yet. I keep waiting for him to write. I must be online all the time to keep track of his appearance. It happens that he does not get in touch for 3-4 days. It's hard to describe what I feel. My thoughts now are only around the news from Mariupol, about whether he is alive and well. Sometimes he just sends a "plus sign" and that's it, without details. And I breathe out for a certain period, until the next message.
VOA: And is there an opportunity to talk to him?
RV: It could be once every two weeks, for a couple of seconds. He calls to hear me, the voice of our son. And that's it.
VOA: Does he say anything about the situation in Azovstal?
RV: No, almost everything I learn from the news. Journalists keep asking me whether I know any details of what is happening at Azovstal from him. But no, he simply says I am alive, I am well, everything is in order. And only from other sources do I learn how difficult the situation is. There are many wounded, many seriously wounded, dead. Food and water shortage. At the moment, I honestly don't know what they eat and how many times they eat. Once a day? Once every two days?
VOA: Do you keep in touch with other Marine relatives?
RV: Yes, but our communication is reduced to a question-answer, "Has your husband contacted you? And what about yours? Yes! Oh, thank God!" So, we learn through each other that everything is alright, they are alive. One gets in touch — we ask about everyone else.
VOA: Did you talk about the possibility of a full-scale war before February 24, has Serhiy prepared you somehow? How did your morning start that day?
RV: It began, like anywhere else in Ukraine, with explosions. We woke up, heard them, and then Serhiy called with the words "Get ready, the war has begun." In general, we discussed that we should prepare for such a thing. Put documents in order, collect essential things. Roughly speaking, I have been living in the war for all eight years, because each of his deployments was a huge worry for me. And I thought that I would be mentally prepared for such a situation. But the scale turned out to be much larger than I expected.
VOA: You say he has called, so he had already been on deployment that day?
RV: Yes, he had left two weeks before the war started. I knew where he was going, and that was not the safest place to be. And in general, this situation was familiar to me, but at that time with all the news around the possible invasion I constantly asked him would something happen? And he kept answering until the beginning of the war, "Do not worry, everything will be fine, we have everything under control." He is just such a person, he would never make me worry.
VOA: Commander Volynsky has been constantly saying since April that they already need the help of the world community.
RV: Yes, they hope for a "military extraction" procedure, when a third state will take responsibility for evacuating them on the condition that they remain on the territory of this country until the end of the war.
VOA: Such an arrangement would require that Russia be in agreement. Does Serhiy believe this is possible?
RV: When people are in a situation where every hour of life is like a year of life — when they question whether they will be alive in an hour or not — then they will hope for even the supernatural. Like, for example, the help of Elon Musk, to whom Serhiy recently appealed [via Twitter]. He, as a commander, is primarily responsible for his fighters and worries that a solution won't be found as quickly as possible. Because the wounded become dead every day.
VOA: He made this appeal almost a month ago, and so far there is no decision ...
RV: That is why I ask [everyone from] U.S. President Joe Biden to Turkish President Recep Tayyip Erdogan to British Prime Minister Boris Johnson, to the leaders of the European Union and the pope and Elon Musk: Save my husband, save the guys from Azovstal. Minutes count, and every minute is worth a human life. I would also like to appeal to people, if possible, go out, shout, spread information, so that no one forgets that there is one such place on planet Earth where it is almost impossible to survive. But the guys survive and hold on to the last of their strength. They have done a lot and they will do a lot more. For all of us, for Ukraine. You just need to get them out of there.
VOA: And what do you write to him?
RV: I always tell him that I am waiting for him. And we will make everything we dream of come true. Every time before leaving, he says, "I won't be long, I can handle it quickly and come back." This time "quickly" lingers on. We are waiting for him very much, we believe he will return alive and healthy. He promised.
This interview was conducted by the VOA Russian Service.
See all News Updates of the Day
Captive Medic's Bodycam Shows Firsthand Horror of Ukraine's Mariupol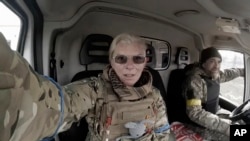 A celebrated Ukrainian medic recorded her time in Mariupol on a data card no bigger than a thumbnail, smuggled out to the world in a tampon. Now, she is in Russian hands, and Mariupol itself is on the verge of falling.
Yuliia Paievska, who as medic went by Taira, used a body camera to record 256 gigabytes of footage on her team's frantic efforts over two weeks to bring people back from the brink of death. She got the harrowing clips to an Associated Press team, the last international journalists in the Ukrainian city of Mariupol, as they left in a rare humanitarian convoy.
Russian soldiers captured Taira and her driver the next day, March 16, one of the many forced disappearances in areas of Ukraine now held by Russia. Russia has portrayed Taira as working for the nationalist Azov Battalion, in line with Moscow's narrative that it is attempting to "denazify" Ukraine. But the AP found no such evidence, and friends and colleagues said she had no links to Azov.
The military hospital where she led evacuations of the wounded is not affiliated with Azov. And the video she recorded shows Taira trying to save wounded Russian soldiers along with Ukrainian civilians.
A March 10 clip shows two Russian soldiers are taken roughly out of an ambulance by a Ukrainian soldier. One is in a wheelchair. The other is on his knees, hands bound behind his back, with an obvious leg injury.
A Ukrainian soldier curses at one of them. "Calm down, calm down," Taira tells him.
A woman asks her, "Are you going to treat the Russians?"
"They will not be as kind to us," she replies. "But I couldn't do otherwise. They are prisoners of war."
Taira, 53, is now a prisoner of the Russians, like hundreds of local officials, journalists and other prominent Ukrainians who have been kidnapped or captured. The U.N. Human Rights Monitoring Mission in Ukraine has recorded 204 cases of enforced disappearances, saying that some victims may have been tortured and five were later found dead.
The Russians have targeted medics and hospitals even though the Geneva Conventions single out military and civilian medics for protection "in all circumstance." Russian soldiers accused a woman in a convoy from Mariupol on May 8 of being a military medic and forced her to choose between letting her 4-year-old daughter accompany her to an unknown fate or continuing on to Ukrainian-controlled territory. The mother and child ended up separated.
Taira's situation and what it reveals about the Russia's treatment of Ukrainian prisoners take on new significance as Mariupol's last defenders are brought to Russian-held areas. Russia says more than 1,700 Ukrainian fighters holed up at a steel mill surrendered this week, while Ukrainian officials said the fighters came out after accomplishing their mission.
Ukraine's government says it tried to add Taira's name to a prisoner exchange weeks ago. But Russia denies holding her, despite her appearance on television networks in the separatist Donetsk region of Ukraine and on the Russian NTV network, handcuffed and with her face bruised.
Taira is known in Ukraine as a star athlete as well the person who trained the country's volunteer medic force. The video she recorded from February 6 to March 10 provides an intimate record of a city under siege that has since become a worldwide symbol of the Russian invasion and Ukrainian resistance.
On February 24, the first day of the war, Taira chronicled efforts to bandage a Ukrainian soldier's open head wound.
Two days later, she ordered colleagues to wrap a wounded Russian soldier in a blanket. She calls the young man "Sunshine" — a favorite nickname for the many soldiers who passed through her hands — and asks why he came to Ukraine.
"You're taking care of me," he tells her, almost in wonder. Her response: "We treat everyone equally."
Later that night, two children — a brother and sister — arrive gravely wounded from a checkpoint shootout. Their parents are dead. By the end of the night, despite Taira's entreaties to "stay with me, little one," so is the little boy.
Taira turns away from his lifeless body and cries. "I hate [this]," she says.
Throughout the video, she complains about chronic pain from back and hip injuries. She cracks jokes. And always, she wears a stuffed animal attached to her vest to hand to any children she might treat.
On March 15, a police officer handed the small data card to a team of Associated Press journalists. Taira asked the journalists over a walkie-talkie to get the card safely out of Mariupol. The card was hidden inside a tampon as the journalists passed through 15 Russian checkpoints.
The next day, Taira disappeared with her driver Serhiy.
A video aired on a March 21 Russian news broadcast announced her capture. In it, she looks groggy and haggard as she reads a statement calling for an end to the fighting. As she speaks, a voiceover derides her colleagues as Nazis.
With a husband and teenage daughter, Taira knew what war can do to a family. At one point, an injured Ukrainian soldier asked her to call his mother, and she told him he would be able to call himself, "so don't make her nervous."
Taira's husband, Vadim Puzanov, said he has received little news since his wife's disappearance.
"Accusing a volunteer medic of all mortal sins, including organ trafficking, is already outrageous propaganda — I don't even know who it's for," he said.
Taira was part of the Invictus Games for Ukraine. She received the body camera last year to film for a Netflix documentary series on inspirational figures being produced by Britain's Prince Harry, who founded the Invictus Games.
Instead, she filmed war footage. In the last video Taira shot, she is seated next to the driver who would disappear with her. It is March 9.
"Two weeks of war. Besieged Mariupol," she says quietly. Then she curses at no one in particular, and the screen goes dark.
Twitter Policy Aims to Clear Fog of War Misinformation
Twitter is stepping up its fight against misinformation with a new policy cracking down on posts that spread potentially dangerous false stories. The change is part of a broader effort to promote accurate information during times of conflict or crisis.
Starting Thursday, the platform will no longer automatically recommend or emphasize posts that make misleading claims about the Russian invasion of Ukraine, including material that mischaracterizes conditions in conflict zones or makes false allegations of war crimes or atrocities against civilians.
Under its new "crisis misinformation policy," Twitter will also add warning labels to debunked claims about ongoing humanitarian crises, the San Francisco-based company said. Users won't be able to like, forward or respond to posts that violate the new rules.
The changes make Twitter the latest social platform to grapple with the misinformation, propaganda and rumors that have proliferated since Russia invaded Ukraine in February. That misinformation ranges from rumors spread by well-intentioned users to Kremlin propaganda amplified by Russian diplomats or fake accounts and networks linked to Russian intelligence.
"We have seen both sides share information that may be misleading and/or deceptive," said Yoel Roth, Twitter's head of safety and integrity, who detailed the new policy for reporters. "Our policy doesn't draw a distinction between the different combatants. Instead, we're focusing on misinformation that could be dangerous, regardless of where it comes from."
The new policy will complement existing Twitter rules that prohibit digitally manipulated media, false claims about elections and voting, and health misinformation, including debunked claims about COVID-19 and vaccines.
But it could also clash with the views of Tesla billionaire Elon Musk, who has agreed to pay $44 billion to acquire Twitter with the aim of making it a haven for free speech. Musk hasn't addressed many instances of what that would mean in practice, although he has said that Twitter should only take down posts that violate the law, which taken literally would prevent action against most misinformation, personal attacks and harassment. He has also criticized the algorithms used by Twitter and other social platforms to recommend particular posts to individuals.
The policy was written broadly to cover misinformation during other conflicts, natural disasters, humanitarian crises or "any situation where there's a widespread threat to health and safety," Roth said.
Twitter said it will rely on a variety of credible sources to determine when a post is misleading. Those sources will include humanitarian groups, conflict monitors and journalists.
A senior Ukrainian cybersecurity official, Victor Zhora, welcomed Twitter's new screening policy and said that it's up to the global community to "find proper approaches to prevent the sowing of misinformation across social networks."
While the results have been mixed, Twitter's efforts to address misinformation about the Ukraine conflict exceed those of other platforms that have chosen a more hands-off approach, like Telegram, which is popular in Eastern Europe.
Asked specifically about the Telegram platform, where Russian government disinformation is rampant but Ukraine's leaders also reach a wide audience, Zhora said the question was "tricky but very important." That's because the kind of misinformation disseminated without constraint on Telegram "to some extent led to this war."
Since the Russian invasion began in February, social media platforms like Twitter and Meta, the owner of Facebook and Instagram, have tried to address a rise in war-related misinformation by labeling posts from Russian state-controlled media and diplomats. They've also de-emphasized some material so it no longer turns up in searches or automatic recommendations.
Emerson Brooking, a senior fellow at the Atlantic Council's Digital Forensic Research Lab and expert on social media and disinformation, said that the conflict in Ukraine shows how easily misinformation can spread online during a conflict and the need for platforms to respond.
"This is a conflict that has played out on the internet, and one that has driven extraordinarily rapid changes in tech policy," he said.

US Lawmakers Push Biden to Designate Russia a State Terror Sponsor
U.S. lawmakers of both major political parties are ramping up pressure on the Biden administration to designate Russia a state sponsor of terrorism.
A resolution urging the secretary of state to make the designation has been introduced in the House of Representatives at a time when Congress is eager to punish Moscow for its war on Ukraine.
Sponsored by Republican Rep. Joe Wilson of South Carolina and Democratic Rep. Ted Lieu of California, the resolution seeks to add the Russian Federation to a list that includes North Korea, Iran, Syria and Cuba.
"[Russia's] reign of terror must stop," Wilson said in a statement.
Lieu said the state terror designation would further efforts to penalize Russia for its invasion of Ukraine.
"With the designation, the United States would be able to ban dual-use exports to Russia and take economic action against other countries that do business with Russia," he said in a statement.
On Sunday, Senate Minority Leader Mitch McConnell, a Kentucky Republican, called on President Joe Biden to make the designation. McConnell over the weekend visited Kyiv and met with Ukraine's president, Volodymyr Zelenskyy.
"I think it's a good idea, and I would support that," he told reporters during a press call, according to The Hill. "The president could do it on his own, and I would urge him to do it."
Ukrainian officials and lawmakers have pleaded with the U.S. to take the step.
"We believe that Russia should be officially recognized as a state sponsor of terrorism," Zelenskyy said during his meeting with McConnell and other members of a Senate delegation, according to his official website.
Maria Zakharova, the spokesperson for the Russian Ministry of Foreign Affairs, called the terrorism designation efforts by U.S. authorities "idiotic measures," to which Russia would respond.
"We, as you know, leave nothing unanswered, and they should understand this," she said April 28, according to a Russian media report.
A few days before McConnell's trip to Ukraine, then-White House press secretary Jen Psaki was asked to respond to the Senate resolution at the press briefing. She didn't offer specifics but noted that many of the measures tied to the designation have been implemented since Russia invaded Ukraine.
In addition to a House measure, a bipartisan resolution has been introduced in the U.S. Senate.

"Putin is a terrorist, and one of the most disruptive forces on the planet is Putin's Russia," said Republican Sen. Lindsey Graham of South Carolina, introducing the resolution last week.
"Putin's Russia deserves this designation," said Sen. Richard Blumenthal, a Connecticut Democrat who co-authored the measure.
State Secretary Antony Blinken appeared open to the possibility when he testified before the Senate late last month.
"There's no doubt in my mind ... that the Russians are terrorizing the Ukrainian people," Blinken said, according to The Wall Street Journal. "The question is this—and again, this is something that the lawyers are looking at—to make sure that we actually meet the statutory requirements of that designation."
Some members of Congress urged consultations with allies before making the designation.
"I think that Russia's behavior certainly justifies this definition, but much of our strength in responding to Russia's invasion of Ukraine is a joint response with our European allies," said Democratic Sen. Chris Koons of Delaware, speaking with VOA. "This would almost completely stop any business of any type that would interact with Russia."
According to the State Department, with this designation, Russia would face four types of sanctions: "restrictions on US foreign assistance; a ban on defense exports and sales; certain controls over exports of dual-use items; and miscellaneous financial and other restrictions."
"Adding Russia to the state sponsors of terrorism list would be the nuclear economic option and a precision strike against Putin's ego," wrote Jason M. Blazakis, a professor at the Middlebury Institute of International Studies, writing in The Los Angeles Times. Blazakis was a director of the State Department's Counterterrorism Finance and Designations Office in the Bureau of Counterterrorism from 2008 to 2018.
He explained that the State Department can add a country to the list after establishing "at least two examples of state-supported terrorism."
"We don't have to look far, though, to find another clear-cut example. Even today, Russia provides sanctuary to a U.S.-designated terrorist group, the Russian Imperial Movement, which operates with impunity in Russian territory. It is a group that has trained terrorists to carry out an attack in Sweden, and it has served as a proxy force for Russia in Crimea," wrote Blazakis.
Both resolutions, registered in the House and the Senate, list numerous examples of the activities that can be qualified as state-sponsored terrorism - in Ukraine, Chechnya, Syria, and other countries.
"It is important to use every tool at the disposal of the US and the international community to hold Putin and Russia accountable, said Jonathan Katz, a senior fellow with The German Marshall Fund VOA, in a written response to VOA.
He believes "Russia and Mr. Putin and the actions that have taken in Ukraine and globally fit the criteria, and they should be labeled a state sponsor of terror."
Lithuania is the first country other than Ukraine to recognize Russia as a sponsor of terrorism. On Tuesday, May 10, the country's parliament designated the Russian Federation as a sponsor of terrorism and recognized its actions in Ukraine as genocide.
"If more states recognize Russia's actions as genocide and Russia as a terrorist state, more political will might emerge to expel Russia from all international formats, political, cultural, sports, etc. The countries that still doubt would be encouraged to adopt tougher sanctions, supply more weapons to Ukraine, etc.," said Paulius Saudargas, Deputy Speaker of the Seimas of the Republic of Lithuania in a written response to VOA.
Russian Foreign Ministry spokeswoman Maria Zakharova called the resolution of the Lithuanian parliament an "extremist step," according to the Russian state agency TASS.
Leonid Slutsky, head of the International Affairs Committee of Russia's lower house of parliament, said "the resolution was not legally binding and that it merely repeated what he called the United States' Russophobic views," Reuters reports.
Danila Galperovich of VOA's Russian Service and Kateryna Lisunova of VOA's Ukrainian Service contributed to this report.
US Senate Overwhelmingly Approves More Ukraine Aid
The U.S. Senate completed congressional action Thursday on a new $40 billion aid package for Ukraine, overwhelmingly approving it and sending the measure to President Joe Biden for his expected signature.
The package is intended to buttress Ukraine over the next five months to combat Russia's ongoing invasion. It includes money for military equipment, training and weapons, as well as billions of dollars in humanitarian aid, including money to help address global food shortages caused by the three-month conflict.
The assistance replenishes stocks of U.S. equipment sent earlier to Ukraine and provides financing to help other countries that are assisting the Kyiv government.
The 86-11 Senate vote came on top of an equally lopsided vote in favor of the legislation in the House of Representatives last week, a broad show of continuing U.S. support for Ukraine at a time when the politically fractious Congress is often sharply divided on the major issues of the day. Republicans cast all the "no" votes in the Senate.
The aid package was about $7 billion more than Biden originally proposed. But he has voiced support in one way or another for Ukraine on an almost daily basis and plans to sign the legislation.
Ahead of the Senate vote, several lawmakers said helping Ukraine in its fights against Moscow and Russian President Vladimir Putin was an imperative.
Senate Republican Minority Leader Mitch McConnell said, "Aid for Ukraine goes far beyond charity. The future of America's security and core strategic interests will be shaped by the outcome of this fight."
"Anyone concerned about the cost of supporting a Ukrainian victory should consider the much larger cost should Ukraine lose," McConnell warned, calling on "every senator on both sides to join this bipartisan supermajority."
A Democratic lawmaker, Senator Jack Reed, chairman of the Senate Armed Services Committee, said, "The next several months will be critical. I think the realization is … that if the Russians succeed here, that won't satisfy them, that that will empower them to do more."
Pentagon spokesman John Kirby said this week, "We all want to see the fighting end. What we're doing in the meantime is trying to provide as many advantages to the Ukrainian armed forces as we can so that they are in a better position on the battlefield — and, should there be a negotiated end to it, that they're in a better negotiating position as well."
Biden Supports Sweden, Finland's Bids to Join NATO
President Joe Biden on Thursday enthusiastically welcomed Sweden and Finland's bids to join the NATO security alliance — a move that would bring two of Europe's most modern militaries right to Russia's northwest border.
Speaking from the Rose Garden, flanked by Prime Minister Magdalena Andersson of Sweden and President Sauli Niinistö of Finland, Biden said he would send their membership applications to the U.S. Congress, where he hopes for a swift approval.
"Sweden and Finland have strong democratic institutions, strong militaries, and strong and transparent economies," Biden said. "And a strong moral sense of what is right. They meet every NATO requirement, and then some."
NATO Secretary-General Jens Stoltenberg made the announcement about Sweden and Finland on Wednesday at the alliance headquarters in Brussels. The 29 other NATO members will have to agree by consensus to admit the two nations—a process that normally takes up to a year but is expected to be faster in this case.
Finland's and Sweden's applications mark a significant departure from their decades-long neutrality, dating from the Cold War. Moscow's decision to invade neighboring Ukraine on February 24 raised fears in both countries, especially in Finland, which shares a border with Russia of more than 1,300 kilometers.
At a Wednesday meeting at the Pentagon, U.S. Defense Secretary Lloyd Austin told his Swedish counterpart, Peter Hultqvist, "We look forward to your contributions to the NATO alliance."
"This is a time when the democracies of Europe and North America must stand together against Russia's naked aggression," Hultqvist said.
Only NATO ally Turkey has expressed reservations about the Baltic neighbors joining the alliance, with Turkish President Recep Tayyip Erdogan accusing them of giving a haven to "terrorists" and imposing sanctions on Turkey.
"We asked for 30 terrorists to be extradited, but [Sweden] said they wouldn't," he said this week. "You will not hand over terrorists to us, but you will ask us to allow you to join NATO. NATO is a security entity. It is a security agency. Therefore, we cannot say 'yes' to depriving this security organization of security."
Ankara says Sweden and Finland have harbored people it says are linked to groups it deems terrorists, namely Kurdistan Workers Party (PKK) militants and followers of U.S.-based Fethullah Gulen, whom Ankara accuses of orchestrating a 2016 coup attempt.
Erdogan has also said Turkey would oppose NATO bids from those who imposed sanctions on Ankara. Sweden and Finland had banned arms exports to Turkey after its Syria incursion against the Kurdish People's Protection Units—PKK's Syrian affiliate—in 2019.
On Thursday in Washington, Finnish President Sauli Niinisto said his government has had discussions with Turkey and assured them they would be good NATO allies.
"As NATO allies, we will commit to Turkey's security, just as Turkey will commit to our security," he said. "We take terrorism seriously. We condemn terrorism in all its forms and we are actively engaged in combating it. We are open to discussing all the concerns Turkey may have concerning our membership in an open and constructive manner."
But analysts say this move could further provoke Russia.
"I do worry that the expansion of NATO to add Finland and Sweden is provocative," Melanie Sisson, a fellow at the Brookings Institution, told VOA via Zoom. "And I worry that, whatever one's view about the value of having them in the alliance, I'm not sure that working that issue right now is wise and actually, I think, shows some lack of strategic patience. So I worry about that dynamic potentially causing a different reaction from Russia than we otherwise would see."
Russian President Vladimir Putin has described NATO's eastward expansion as a threat to Russia, and cited Ukraine's desire to join the alliance as a reason for his decision to invade in February.
"The expansion of NATO—this is a problem that is created completely artificially, because it is done in the foreign policy interests of the United States," Putin said this week. "In general NATO has become a foreign policy instrument of one country."
Later Thursday, Biden departed for his first presidential trip to Asia, where he will visit U.S. allies South Korea and Japan and attend a summit of Quad leaders. Those meetings are likely to also feature lengthy discussions on the situation in Ukraine.
VOA Pentagon correspondent Carla Babb contributed to this report. Some information is from Reuters.