Student Union
Chinese College Students Being Forced to Spy on US
Chinese university students in the United States are increasing being pressured to act as pawns in the ever-expanding espionage war that Beijing is running against Washington and its allies.
The allegation, made Monday by a key U.S. lawmaker, comes as security and defense officials are expressing growing concern over Chinese efforts to exploit Western research and technology.
"The overwhelming number of counterintelligence cases in our country now involve Chinese nationals," Senate Intelligence Committee Vice Chairman, Democrat Mark Warner, told an audience at the Council for Foreign Relations in Washington.
"The Chinese spy services are literally threatening Chinese families," he said. "'If your son or daughter does not come back [from the US] and come back with intellectual property, you the family will be put in jeopardy," Warner said.
Warner is not the first to raise concerns about Chinese students in the U.S. This past April, FBI Director Christopher Wray warned Chinese intelligence was using a "societal approach" to stealing research and technological advancements – a plan that included leveraging Chinese students in the U.S.
"The academic sector needs to be much more sophisticated and thoughtful about how others may exploit the very open, collaborative research environment that we have in this country, and revere in this country," Wray said at the time.
Almost a third of all international students at U.S. colleges and universities come from China, according to the Institute for International Education, which put the number at more than 360,000 for the 2017-2018 academic year.
And until now, many U.S. universities have been eager to welcome Chinese students, seeing them as a way to bring in more money.
"This is a revenue source that the universities become addicted to," Warner said. "All those students are paying 100 cents on the dollar tuition."
But U.S. officials say academic institutions are increasing aware of the dangers, both from students and from Chinese outreach efforts, like its Confucius Institutes.
The institutes were set up at universities across the U.S. to promote education about Chinese language and culture, though Warner said many academic officials are now viewing them as "nothing but agents of Chinese services to spy on Chinese students and hold them accountable."
It is also becoming more difficult for Chinese students to get into the U.S.
Last year, the U.S. State Department shortened the length of visas for Chinese graduate students studying robotics, aviation and advanced manufacturing from five years to one year. And earlier this month, Chinese officials said visa complications had prevented 13.5% of Chinese students hoping to study in the U.S. from making the trip.
Warner on Monday warned U.S. academics should likewise be wary of traveling to China.
"If you're suddenly offered an all-expense paid trip to lecture in Chinese universities, please make sure you don't bring your existing computer equipment. Bring burner phones," he said. "There are certain kind of low hanging fruit that I think we could do a better job of."
See all News Updates of the Day
Neglecting Nutrition and Exercise can Cause Problems for College Students
In the rush and excitement of American college life, it's easy for students to ignore the basics of good nutrition and regular exercise.
But University Press warns that inadequate nutrition and exercise can affect mental and physical health, social life and academic performance. (November 2023)
US College Football Traditions Can be Lost on International Students
American-style football is a big part of college life on many campuses – with chants, songs, rivalries and homecoming celebrations.
But the celebration can be lost on international students, who aren't typically familiar with the sport. The World reports Colorado State University offers a noncredit course to help students understand American football. (November 2023)
Donor Threatens to Withdraw $100 Million From University After Congressional Hearing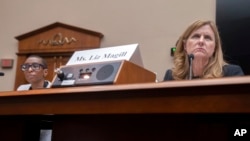 A University of Pennsylvania donor has threatened to withdraw a $100 million donation from The Wharton School, the university's business school, following the appearance of the university's president before Congress.
University of Pennsylvania President Elizabeth Magill appeared before Congress Tuesday along with leaders of two other Ivy League schools - Harvard President Claudine Gay and Sally Kornbluth of MIT.
During a hearing, none of the presidents answered "yes" or "no" to the question: "Does calling for the genocide of Jews violate [your university's] code of conduct or rules regarding bullying and harassment?"
All three presidents told the panel that they did not condone antisemitism and were taking steps to prevent it on campus, but on the specific question they cited free speech rights and said any discipline would depend on the specific circumstances.
Hate speech and acts — both antisemitic and Islamophobic — have erupted on U.S. college campuses since the Hamas-Israel war began in October.
All the presidents have received criticism because of their refusal to give a definitive answer to the question.
Stone Ridge Asset Management CEO Ross Stevens says he will withdraw his donation, now worth $100 million, to the Wharton School's Stevens Center for Innovation in Finance if Magill is not removed from office.
Proposal Would Remove Student Aid for Those Who Support Some Palestinian Groups
A Florida lawmaker has proposed eliminating scholarships, tuition breaks and fee waivers for students who are suspected of "promoting terrorist organizations."
According to WOKV television, the bill appears to be in line with Florida efforts to disband pro-Palestinian groups on college campuses. (November 2023)
International College Student Enrollment in US Soars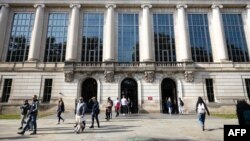 International student enrollment at U.S. schools has bounded back from pandemic lows, Forbes reports. It increased 12% in 2022-23, the fastest growth rate in more than 40 years. Read the full story here. (November 2023)