Student Union
Free USC Tuition to Students With $80K or Less Family Income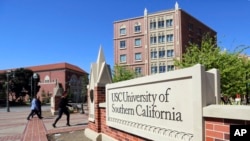 The University of Southern California will phase in free tuition for undergraduate students from families with an annual income of $80,000 or less, USC President Carol L. Folt announced Thursday.
As part of the initiative, ownership of a home will not be counted in determining a student's financial need to attend the Los Angeles private college with 20,500 undergraduates, where tuition and living expenses are above $77,000 annually.
"We're opening the door wider to make a USC education possible for talented students from all walks of life,'' Folt said in a statement.
The changes will be phased in beginning with first-year students entering USC in the fall of 2020 and the spring of 2021, USC said.
The university also said it will increase undergraduate financial aid by more than $30 million annually. When fully implemented, the expansion will allow USC to provide stronger financial assistance to more than 4,000 students every year.
An undergraduate's estimated full-time, two-semester tuition for 2019-2020 is $57,256, according to USC's cost and financial aid website.
Adding fees, housing, meals, books, supplies, transportation and miscellaneous costs boosts the total to $77, 459. For students living with parents or relatives the total estimate is $64,715.
In comparison, the estimated annual average cost for a California resident undergraduate living on campus at the nine public University of California colleges is $36,100. The cost for a student living off campus averages $33,200.
According to USC, two-thirds of its undergraduates receive financial aid and more than 21% of undergraduates are from low-income families.
In all, USC's undergraduate students each year receive more than $640 million in awards from all sources for tuition and expenses. More than half of the total is from USC grants and scholarships.
"With this new initiative, we will be even better positioned to recruit students from all backgrounds and strengthen the USC experience for everyone,'' said USC Provost Charles F. Zukoski.
Folt, the former chancellor of the University of North Carolina at Chapel Hill, became USC's president last year as the university dealt with a series of major scandals, including the college admissions bribery case.
That scandal followed allegations that the school ignored complaints of widespread sexual misconduct by a longtime campus gynecologist and an investigation into a medical school dean accused of smoking methamphetamine with a woman who overdosed.
See all News Updates of the Day
How Are Girls in Afghanistan Continuing Their Education?
After the Taliban retook power in Afghanistan in 2021, they severely limited access to education for girls. Yet a club founded in the U.S., Flowers for the Future, helps Afghan girls keep learning through Zoom meetings with U.S. students. Two students, one Afghan, one American, describe their journey with the program and what it's taught them about grit, resilience and the importance of learning. Read the essays by Mahsa Kosha and Emily Khossaravi in the Hechinger Report. (May 2023)
Could Your International Degree be Financed by Goldman Sachs?
Quite possibly, since the elite U.S. investment bank has been investing millions in educational startups. Students from countries like India, Nigeria and Indonesia have long struggled to finance their U.S. degrees due to limited access to loans, but these new startups could disrupt that. For example, in just the first quarter of 2022, one startup, Prodigy Finance, reported a 98% increase in the number of Indian loan applicants. Nick Cuthbert of the PIE News breaks down the financial projections. (May 2023)
How Do College Sports Bring Together American and International Students?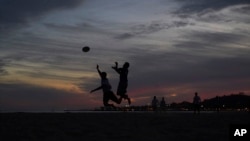 The game of Ultimate Frisbee has no referees and isn't governed by the official association for U.S. college sports. But it is intensely competitive, and students from Australia, China and elsewhere travel to the U.S. to play for the best schools. Andrew Smith of VOA Learning English reports on how college athletics can forge international friendships outside the classroom. (May 2023)
Is It Possible for Vietnamese Universities to Find Ways to Attract American Students to Study Abroad?
Vietnamese students now make up the fifth-largest group of foreign students in the U.S., according to the 2022 Institute of International Education's (IIE) annual Open Doors report. The report found 20,713 Vietnamese students studied in the U.S. in the 2021-2022 academic year.
But now some Vietnamese universities have recently begun trying to attract U.S. students to study in Vietnam, a goal that is challenging, some education experts told VOA's Khanh An. (May 2023)
Is Your Dream School in Good Financial Shape?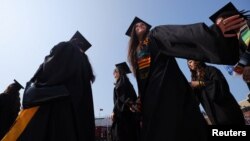 The global consultancy Bain and Company has released an interactive tool to measure the financial health of U.S. colleges. You can use it to see what might happen if enrollments decline, or if the U.S. enters a recession. Bain's analysis suggests many schools are not prepared for future economic shocks. (May 2023)