Student Union
Harvard Sees Steep Decline in Revenue
Harvard University lost $10 million in operating expenses at the end of the fiscal year in September, compared with a $308 million surplus last year.
Revenue declined $138 million, mostly in the final quarter of the fiscal year that ended the last day of June 2020, according to the University's Annual Financial Report.
Refunds costly
The biggest toll was from refunding student room and board fees — $32 million — when students were sent home because of the COVID-19 pandemic.
Total student revenue decreased by 11% to $1.1 billion.
Harvard also lost revenue from its lucrative executive education programs in which the university earned $500 million in revenue, or 9% of its profit. Executive programs include short- and long-term leadership and business programs in the school's vaunted business school.
"The loss would have been far greater without the implementation of immediate cost control efforts, including cuts in discretionary spending, a freeze in new hires and raises, no bonuses or overtime work, voluntary salary cuts by senior leadership, and reduced capital spending," Vice President for Finance Thomas J. Hollister and Treasurer Paul J. Finnegan wrote in the report.
Salary and hiring freeze
In April, the university in Cambridge, Massachusetts, instituted a salary and hiring freeze and other belt-tightening measures in the wake of economic disruption caused by the COVID-19 pandemic.
It canceled or deferred discretionary spending, according to an email sent to the school community on April 13.
"Harvard, like other universities around the world, will not be spared the economic consequences of the pandemic," said an email signed by President Lawrence S. Bacow, Executive Vice President Katherine N. Lapp and Provost Alan M. Garber.
The April email called the financial effects of COVID-19 "disorienting, even dizzying."
Financial aid increased
On a bright note, the financial report stated that the university increased its financial aid to students by 5% to $645 million in scholarships.
Also, while gifts and donations, which account for 46% of its endowment, were down 13%, assets were up.
Harvard Management Company increased assets by $893 million to $50.2 billion as of June 30, 2020.
See all News Updates of the Day
Check Out These Lesser-known Scholarships Available to International Students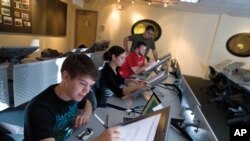 Most students looking to study in the United States are already familiar with prospects for financial aid, but there are some lesser-known scholarships available.
The Times of India has compiled a listing of scholarships — many offered by individual schools — that can benefit students from other countries. (August 2023).
Despite Challenges, Afghan Refugee Students in the US Are Thriving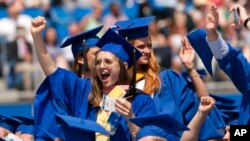 Two years after the Taliban took Kabul, Karin Fischer of the Chronicle of Higher Education profiles a group of Afghan women at the University of Delaware who fled Kabul.
After learning English, mastering U.S. cultural norms and surviving the trauma of separation from their families, these students are now mentoring other new arrivals. (August 2023)
Know the Details, and Risks, of Student Loans
After School Africa takes a look at student loans and international students.
"Normally, many people do not like the idea of loans, and it is not the first option in the minds of many people," the article notes. "However, student loans can be the only option for some students who want to actualize their goals."
Read about the various types of student loans, and their potential risks, here. (August 2023)
Want an MBA from a US School? Here's How One Man Made It from Indonesia to Wharton
A student from Indonesia writes about his path to studying for an MBA at the Wharton School of the University of Pennsylvania. Among his suggestions: apply to a range of schools and craft a compelling personal essay. Read more here. (August 2023)
Academic Integrity in the US: What International Students Need to Know
International students have many things to learn about the U.S. when they arrive on American campuses. U.S. News & World Report delves into a less-common topic: academic integrity.
The magazine explores basic expectations at many U.S. schools, including how to use quotes and citations in papers, how to avoid plagiarism and navigating artificial intelligence pitfalls.
Read the full story here. (August 2023)