Student Union
Jill Biden Pushes Free Access to Community College, Training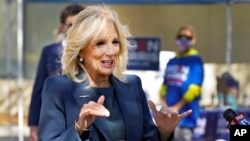 Jill Biden is pushing free access to community college and training programs, saying the schools will be an important part of Biden administration efforts to rebuild the economy.
A longtime community college professor and advocate, the first lady said people struggling to get by during the coronavirus-induced economic slump need access to these schools.
"We have to get this done. And we have to do it now. That's why we're going to make sure that everyone has access to free community college and training programs," Jill Biden said in taped remarks broadcast Tuesday during a virtual legislative summit hosted by the Association of Community College Trustees and the American Association of Community Colleges.
She was not more specific. As a presidential candidate, Joe Biden promised two years of community college or training "without debt."
Similar proposals have been put forward in the past.
In 2015, President Barack Obama and then-Vice President Joe Biden pushed a plan to provide two years of free community college, but the proposal languished in Congress.
Jill Biden indicated that the administration would revive the idea.
"We're going to make sure students have the support they need to cross that finish line," she said. "We're going to invest in programs that prepare our workers for jobs of the future."
Average annual tuition and fees at a community college cost $3,730 during the 2019-20 academic year, compared with an average of $10,440 for in-state tuition and fees at a four-year public college, according to the American Association of Community Colleges.
Jill Biden, who continues to teach — albeit virtually — and is the first first lady with a paying job outside the White House, said community colleges are no longer America's "best kept secret," as she has long been fond of saying.
"They are our most powerful engine of prosperity," she said.
The first lady teased a future White House summit on community colleges. She gave no hints on when it would be held and her office did not immediately respond to emailed requests for comment. She helped lead a White House community college summit during the Obama-Biden administration.
See all News Updates of the Day
Should We Rethink the College Syllabus?
Syllabi used to be an intellectual map, showing students what they could expect to learn. But academic and video game designer Ian Bogost argues that syllabi have become boring, rote and describe college policies and regulations instead of academic material. Read his argument in The Atlantic. (August 2023)
International Students Detail US Workplace Culture Shocks
International students at Michigan State University talk about workplace culture shocks in the U.S.
Sophomore Shreshta Sinha of India, who's studying computational and cognitive neuroscience, says that unlike India, the U.S. tends to stress work over education.
Read the full story here. (September 2023)
Union Support Grows Among US Graduate Students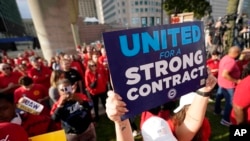 Labor unions are finding support among graduate students at U.S. colleges and universities, according to a new report.
Graduate students, upset by working conditions and pay, have held a series of organizing votes in the past two years, Times Higher Education reports. (September 2023).
Why Are Americans Less Confident in Higher Education?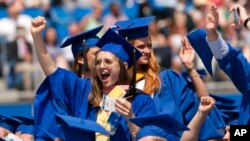 Only about 4 in 10 Americans say they have a "great deal" or "quite a lot" of confidence in higher education. Sarah Wood of U.S. News & World Report examines why and offers some solutions. (August 2023)
Research Helps Applicants Be More Competitive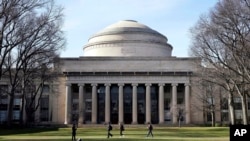 Between a third to half of all students admitted to the University of Pennsylvania and the California Institute of Technology feature high school research projects in their applications, and the MIT application even has a dedicated section for them.
Such projects can be "both a differentiator and an equalizer" in the admissions process: they can show your own individual drive and creativity, while also being accessible to students of all races and incomes. Read Janos Perczel's argument in The Hechinger Report. (August 2023)