Student Union
Protester Faces Uphill Battle to Promote Hong Kong Awareness
Alex Lee has embarked on a cross-country bike trip — beginning in Los Angeles, California, and headed to Boston, Massachusetts — in hopes of inspiring the next generation of pro-democracy advocates in China.
He is spreading his message in the U.S., Lee noted, because the free press is likely to report on his journey, and there are many Chinese people in America. He also wants to show Americans there are Chinese people like him who do not stand with the Chinese Communist Party (CCP), he said.
Lee, 36, grew up in a small coastal city near Beijing, with limited free access to information in China. At the age of 24, he found a chat room where discussions were unfiltered.
Arguing with people abroad, he defended with patriotic fervor the Chinese Communist Party (CCP) until, he said, he dove deeper into its history and found a different story than what he was taught.
"Liberals and conservatives were arguing with each other every day," Lee said about what he was witnessing online when he used the platform from 2009 to 2010.
"Like current Americans," he added, referring to heated political debates.
He studied sociology in Japan in 2016, but three years later, left for Hong Kong to join the pro-democracy protests and to make public speeches because it was less restrictive than in mainland China, he said.
"I thought, as a sociologist, that I knew I could do something for the protest because we support democracy and freedom," he said.
On the 100-year anniversary of the CCP this month, VOA reported similar disappointments among people from Hong Kong. While university students in the 1990s were inspired to run for public office, Hong Kong was returned to Chinese authority in 1997 after British rule since 1839. Pro-democracy advocates say open representation in government has become a distant dream.
Students on front lines
Student involvement in protests had grown dramatically until last year when a controversial national security law significantly curtailed democratic freedoms, critics said.
"Young people were wearing masks before COVID to conceal their identity and gave pseudonyms," shared Paul Greaney, who attended Fudan University in Shanghai and reported on the student protests in Hong Kong in 2019 for NTD Television.
"Everyone on the front lines were young people, and the majority of them were educated and very intelligent," he said.
Social media — like the Telegram app — were key to communicating protests, explained Greaney, as students and young people pushed back on authoritarian rule.
"Many older people I spoke with supported the young people because they couldn't go to the front lines," said Greaney. "They were really brave, they were prepared to get arrested, but still went there."
The crackdown has been met with resistance. This week, nine people were arrested on suspected terrorism charges, the youngest being 15 years old.
VOA reported in January that under a recent national security law, pro-democracy activist Joshua Wong, 24, was charged with subversion.
And in Chinese-occupied Tibet, three Tibetan teenagers went missing and another was hospitalized with two broken legs after reportedly failing to register a WeChat text group chat with local authorities, according to a Tibetan advocacy group. China has occupied Tibet and imposed pro-China authoritarian rule since 1950.
Fear of speaking out
"During the height of the protests, there was definitely a lot of student activity on social media about the protests," according to an international student from Hong Kong attending New York University in New York City, requesting anonymity for fear of retaliation.
"Some people were worried about posting, especially since in China, people are aware of phone surveillance, but a lot did post. Majority that I had seen were in support of Hong Kong, but some students with wealthier families whose parents benefit from China's involvement did post pro-China content," this person said.
Being an international student, this person said it was difficult to discuss the protests with other students who might report them to the CCP.
"While I do think some people are aware that there's something going on in Hong Kong, I don't think a lot of people really know the intensity of the situation and the reasons behind the protests," the international student said about American awareness of politics in Asia.
When last in Hong Kong in 2019 before the onset of the COVID-19 pandemic, the student reported having great difficulty getting around the city.
"I was staying by the waterfront in Wan Chai, one of the main sites for the protests, and the roads were blocked, police were everywhere and sometimes it was difficult to access the subway, get taxis, and to access certain major areas of the city. I haven't been back since, so I'm not sure if that's still the case."
Not an easy ride
Lee, most recently in the Mojave Desert that stretches across California, Nevada, Utah and Arizona in the Southwest U.S., said he nearly perished in the 110-degree heat as he pushed his bike along sandy streets that made riding impossible.
But he said he intends to persevere after being helped along the way by average Americans.
"Idealists are people who still have the courage and faith to pursue the light in the dark night," he texted.
"I'm not the first person to cross America from coast to coast, but I might be the first person to do that in order to support Hong Kong protests and democracy."

See all News Updates of the Day
What Did Justin, a Golden Retriever Mix, Do to Earn a Diploma?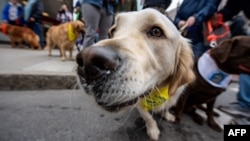 Justin is a service dog and accompanied his owner (who graduated with honors) to every single class for four years. The student's university honored the dog's hard work with his very own diploma, which he accepted, tail wagging, in front a cheering stadium of other graduates.
See Justin's walk across the stage in this story from Bill Chappell of NPR. (May 2023)
What Are US Diplomats Doing to Further International Education?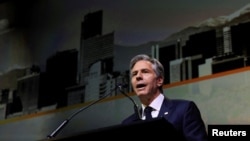 U.S. Secretary of State Antony Blinken touted his department's achievements in a recent address to NAFSA: Association of International Educators. The State Department has relaxed student visa and study abroad requirements. In fact, it issued over a half-million student visas last year – the highest number in five years. Blinken, who spent part of his childhood in France, thanked educators for "helping us to see the world through another's eyes."
Watch his remarks in this press release from the State Department. (May 2023)
Soon-to-Be Graduates Put COVID Behind Them
During the COVID-19 pandemic, learning lagged for students around the world, including the U.S., where many had access to online learning. Now these soon-to-be graduates say they are behind in certain subjects because of time missed at school. VOA's Laurel Bowman sat down with high school seniors on the cusp of graduation. Camera: Adam Greenbaum, Saqib Ul Islam.
Former US Congresswoman Liz Cheney Urges Graduates Not to Compromise With the Truth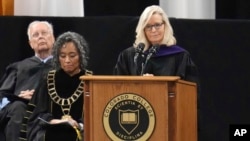 Former U.S. Congresswoman Liz Cheney implored new college graduates to not compromise when it comes to the truth, excoriating her House Republican colleagues for not doing enough to combat former President Donald Trump's lies that the 2020 election was stolen.
In a commencement speech at Colorado College, the Wyoming Republican repeated her fierce criticisms of Trump but steered clear of talking about his 2024 reelection campaign or her own political future.
Cheney, who graduated from Colorado College in 1988, recalled being a political science student walking into a campus building where a Bible verse was inscribed above the entrance that read, "Ye shall know the truth and the truth shall make you free."
"After the 2020 election and the attack of January 6th, my fellow Republicans wanted me to lie. They wanted me to say the 2020 election was stolen, the attack of January 6th wasn't a big deal, and Donald Trump wasn't dangerous," Cheney said Sunday in Colorado Springs, connecting her experiences as a student to her work in the U.S. House of Representatives. "I had to choose between lying and losing my position in House leadership."
In three terms in office, Cheney rose to the No. 3 GOP leadership position in the House, a job she lost after voting to impeach Trump for the Jan. 6, 2021, insurrection at the Capitol and then not relenting in her criticism of the former president.
Cheney's speech touched on themes similar to those she has promoted since leaving office in January: addressing her work on the House committee investigating the Jan. 6 2021 attack on the U.S. Capitol and standing up to the threat she believes Trump poses to democracy. She also encouraged more women to run for office and criticized one of the election-denying attorneys who worked for Trump after the 2020 election for recent remarks about college students voting.
"Cleta Mitchell, an election denier and adviser to former President Trump, told a gathering of Republicans recently that it is crucially important to make sure that college students don't vote," Cheney said. "Those who are trying to unravel the foundations of our republic, who are threatening the rule of law and the sanctity of our elections, know they can't succeed if you vote."
In an audio recording of Mitchell's presentation from a recent Republican National Committee retreat, she warns of polling places on college campuses and the ease of voting as potential problems, The Washington Post reported.
Most students and parents in the audience applauded throughout Cheney's remarks, yet some booed. Some students opposing the choice of Cheney as speaker turned their chairs away from the stage as she spoke.
Cheney's busy speaking schedule and subject matter have fueled speculation about whether she may enter the 2024 GOP presidential primary since she left office. Candidates ranging from Florida Gov. Ron DeSantis to former South Carolina Gov. Nikki Haley have calibrated their remarks about Trump, aiming to counter his attacks without alienating the supporters that won him the White House seven years ago.
Though some have offered measured criticisms, no declared or potential challenger has embraced anti-Trump messaging to the same extent as Cheney. She did not reference her plans on Sunday but has previously said she remains undecided about whether she wants to run for president.
Though she would face an uphill battle, Cheney's fierce anti-Trump stance and her role as vice chairwoman of the House committee elevated her platform high enough to call on a national network of donors and Trump critics to support a White House run.
A super PAC organized to support of her candidacy has remained active, including purchasing attack ads on New Hampshire airwaves against Trump this month.
After leaving office and being replaced by a Trump-backed Republican who defeated her in last year's primary, Cheney was appointed to a professorship at the University of Virginia and wrote "Oath and Honor," a memoir scheduled to hit shelves in November.
Two of Cheney's five children as well as her mother are also graduates of the liberal arts college.
Cheney's speaking tour appears to be picking up. She is scheduled to appear Thursday at the Mackinac Policy Conference in Michigan.
How Are Girls in Afghanistan Continuing Their Education?
After the Taliban retook power in Afghanistan in 2021, they severely limited access to education for girls. Yet a club founded in the U.S., Flowers for the Future, helps Afghan girls keep learning through Zoom meetings with U.S. students. Two students, one Afghan, one American, describe their journey with the program and what it's taught them about grit, resilience and the importance of learning. Read the essays by Mahsa Kosha and Emily Khossaravi in the Hechinger Report. (May 2023)