Student Union
Two Years and 16 Time Zones = Virtual Valentine
Studying abroad can be the opportunity of a lifetime, but sometimes it comes at a cost to personal relationships. For this Valentine's Day, partners Pavel and Vince explore the secrets to maintaining a long-distance international relationship, affirming their love for each other from 16,000 kilometers (10,000 miles) away.
See all News Updates of the Day
Croatian Student Earning Simultaneous Ph.D.s in US, Croatia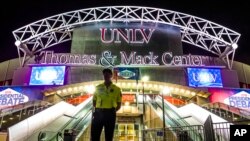 A Croatian student is earning two Ph.D.s simultaneously, one in Croatia and one at the University of Nevada, Las Vegas.
Borna Nemet spends his days at UNLV studying educational leadership and effectiveness. At night, he uses Zoom to teach students at the University of Zagreb in Croatia. Read the full story here. (May 2023)
It's Graduation Season – Who Might Speak at Yours?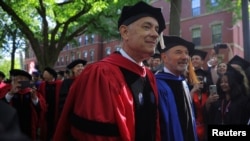 U.S. graduation ceremonies usually feature a public figure who offers advice to young people starting their careers. This spring, graduates have heard from President Joe Biden, actor Tom Hanks, Nobel Peace Prize winner Maria Ressa and even Ukrainian President Volodymyr Zelenskyy. Finnish Prime Minister Sanna Marin, who became the youngest prime minister in the world at age 34, told her audience that change cannot wait, even at their age. "To change things," she said, "you have to take over."
Read the story from Dan Friedell of VOA Learning English. (May 2023)
What Did Justin, a Golden Retriever Mix, Do to Earn a Diploma?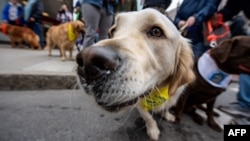 Justin is a service dog and accompanied his owner (who graduated with honors) to every single class for four years. The student's university honored the dog's hard work with his very own diploma, which he accepted, tail wagging, in front a cheering stadium of other graduates.
See Justin's walk across the stage in this story from Bill Chappell of NPR. (May 2023)
What Are US Diplomats Doing to Further International Education?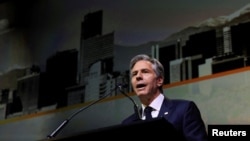 U.S. Secretary of State Antony Blinken touted his department's achievements in a recent address to NAFSA: Association of International Educators. The State Department has relaxed student visa and study abroad requirements. In fact, it issued over a half-million student visas last year – the highest number in five years. Blinken, who spent part of his childhood in France, thanked educators for "helping us to see the world through another's eyes."
Watch his remarks in this press release from the State Department. (May 2023)
Soon-to-Be Graduates Put COVID Behind Them
During the COVID-19 pandemic, learning lagged for students around the world, including the U.S., where many had access to online learning. Now these soon-to-be graduates say they are behind in certain subjects because of time missed at school. VOA's Laurel Bowman sat down with high school seniors on the cusp of graduation. Camera: Adam Greenbaum, Saqib Ul Islam.