Student Union
University President Says AUAF Is Funded, Stable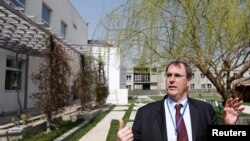 David Sedney, president of American University of Afghanistan in Kabul, sat down with VOA's Afghan service to talk about AUAF's financial stability after news reports questioned its survival.
"The American University of Afghanistan is drawing up plans to shut down next year, a casualty of anticipated U.S. government budget slashing of the school's steady stream of funding," CNN recently reported, citing three sources.
CNN added: "The university is widely regarded as a top university in Afghanistan and the only one that provides a Western-style education. Established in 2006, the school now has a student body that is about half female and presents an important opportunity for women, who the Taliban once forbid from going to school. Many of its graduates have gone on to serve in the Afghan government."
Sedney rejected CNN's report, saying the AUAF has ample funding and security and is optimistic on all fronts. He insists that the university will continue operating as it has for more than a decade.
Here is VOA's conversation in Kabul on Dec. 29.
VOA: Is it true that American University in Afghanistan may shutdown for lack of security or lack of finances? To be specific it is lack of money or security?
Sedney: Neither is correct. The AUAF has strong security and support to be funded. The fund is always up from its goal. Of course, nothing is 100 percent. We are working cooperatively and positively with the U.S. government to get additional grants, we are optimistic on all fronts and I want to ensure everyone that the security of AUAF is great we will continue to keep our operations going forward in the future.
VOA: Who are the current donors obviously the US government one of them and to some extent the fees? How can it be sustained?
Sedney: In the long term AUAF, like other private colleges and universities, will need to have an endowment that gives income to cover the costs of educating a student.
Right now, the cost of educating our students is about $25,000 dollars a year, and the tuition we charge is about one-sixth of that. The difference is made up by the support of the U.S. government and other sources.
In the longer term, we are looking into an endowment that will generate income and that allow us to continue to give over $2 million financial aid that we give each year and keep the quality of education at the very top of the country.
We had positive discussions with the U.S. government have a strong support from Washington to keep this going and address the concerns of the Afghan people.
VOA: Peace talks with Taliban it adds to the security concerns or makes you hopeful — remembering that the Taliban brutal attack on AUAF (killing 17 with a car bomb and automatic weapons) is still fresh?
Sedney: We continue to support those who were wounded and work with the families of those who lost their lives in the horrible attack. At the same time I have to say we have suffered just as much as almost anyone else in Afghanistan has suffered from this conflict.
The need for funding to maintain a strong security environment will also remain reality. Peace is needed. Peace is necessary. We support peace. We support a just and durable peace that will let Afghans reach their full potential.
VOA: Afghan students were worried after the reports of may be closing. What do you tell them about your future plans?
Sedney: I tell them (that) I, the Board of trustees, and the administration, we all are actively working to ensure that the funding for AUAF operations, security, academic programs is in place for future. I am telling the students that we will operate, not just this year, but in future.
We value our long and productive relationship with the U.S. government, especially USAID (U.S. Agency for International Development). We have the strong support of the U.S. government and U.S. Congress and we will serve the people of Afghanistan.
See all News Updates of the Day
Psychologists at Virginia University Aim to Make International Students Feel at Home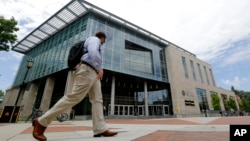 Virginia Commonwealth University has two staff psychologists specializing in intercultural issues. Their mission? To help international students adjust to life in the U.S. as seamlessly as possible. Read the full story here. (June 2023)
Are Declining Enrollments in the US a Hidden Opportunity for Students Abroad?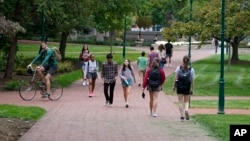 Allen Goodman, CEO of the Institute for Higher Education, writes that empty seats at U.S. colleges could drive a boom in international education. The U.S. has lost market share among host countries, but unlike its competitors, its university system is so large and underutilized that it could easily recruit more students. Because international students become "friends for life" with the U.S., and bring valuable expertise (and tuition dollars), Goodman argues the U.S. should recruit 2 million students by the end of the decade.
Weigh his argument for yourself in Times Higher Education. (May 2023)
What Could a Bitter Lawsuit Tell Us About International Education in the US?
In 2010, the University of South Florida signed a 30-year contract with INTO, a company that provides support services for international students. INTO built a "pathway program" at the university that taught students English and basic academic skills before they began their higher-education degrees. But after years of enrollment declines, the university ended the contract, and now both parties are fighting an "acrimonious" court case. The news comes as many of INTO's programs at other schools are being shuttered. While management and financial issues may play a role, so does the post-pandemic educational landscape: pathway programs can now be easily offered online.
Liam Knox of Inside Higher Ed has more. (May 2023)
Croatian Student Earning Simultaneous Ph.D.s in US, Croatia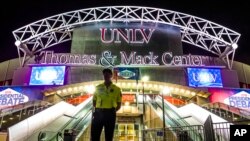 A Croatian student is earning two Ph.D.s simultaneously, one in Croatia and one at the University of Nevada, Las Vegas.
Borna Nemet spends his days at UNLV studying educational leadership and effectiveness. At night, he uses Zoom to teach students at the University of Zagreb in Croatia. Read the full story here. (May 2023)
It's Graduation Season – Who Might Speak at Yours?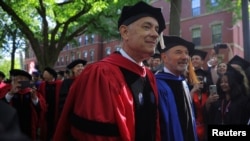 U.S. graduation ceremonies usually feature a public figure who offers advice to young people starting their careers. This spring, graduates have heard from President Joe Biden, actor Tom Hanks, Nobel Peace Prize winner Maria Ressa and even Ukrainian President Volodymyr Zelenskyy. Finnish Prime Minister Sanna Marin, who became the youngest prime minister in the world at age 34, told her audience that change cannot wait, even at their age. "To change things," she said, "you have to take over."
Read the story from Dan Friedell of VOA Learning English. (May 2023)