Student Union
What's Your Passion? Internships Can Help Focus Career Path
Shaping a future career should start before students graduate, experts say.
Although students choose a field of study that interests them, many do not have a clear idea of what kind of work they want in the future, said Margo Jenkins, director of the Career Center at Clarkson University in Potsdam, New York.
She suggested college students get professional experience early and often.
"What are you interested in?" Jenkins said she asks students. "You need to go pursue that now … We're here … to guide the student in the right direction."
Most colleges and universities in the United States have career centers, she said, and schools try to connect new students with these services soon after they arrive. Even if a student doesn't know the exact job they want, there is plenty of help available before making such a decision.
Career centers help students prepare documents needed in a job search, like resumes or CVs (curriculum vitae) that list an applicant's education and experience. A cover letter is often requested in which an applicant makes an appeal to an employer about why they should be hired for the job.
Career centers offer students advice about these documents and other aspects of job hunting, such as how to present yourself during job interviews, Jenkins said.
And they maintain close relationships with employers in many industries, Jenkins said. They also maintain relationships with former students, who may be able to offer advice to current students on similar career paths.
One tool that helps to build a career is temporary employment, such as internships and co-ops. Co-op is short for Cooperative Education and is an academic program meant to complement the student's education, according to the Cooperative Education & Internship Association.
Internships are often short-term positions with a company or organization while a co-op is meant to be longer term. They both let students test their knowledge and abilities in the real world and help them consider if the work or company is a good fit for them.
Importantly, students make professional connections on internships that can be used throughout their lifetime as mentors and references.
Internships can be year-round but most full-time internships are in the summer. Some internships are unpaid and can bring a student necessary experience. But many students purposely seek paid internships to list on their resume as a sign to the employer that they are more skilled and worth monetary compensation.
For a co-op, a student usually suspends their classes for a term to work as a full-time employee in a company.
Jenkins said these kinds of programs have become increasingly important. More and more employers have come to expect this kind of experience on students' resumes.
At Clarkson University, about 90% of students work at an internship, co-op or research experience before completing their studies.
"This is the only point in a student's life where they're going to be able to try out jobs for a couple of months at a time, with absolutely no risk," Jenkins said.
See all News Updates of the Day
Former US Congresswoman Liz Cheney Urges Graduates Not to Compromise With the Truth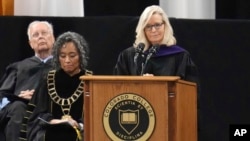 Former U.S. Congresswoman Liz Cheney implored new college graduates to not compromise when it comes to the truth, excoriating her House Republican colleagues for not doing enough to combat former President Donald Trump's lies that the 2020 election was stolen.
In a commencement speech at Colorado College, the Wyoming Republican repeated her fierce criticisms of Trump but steered clear of talking about his 2024 reelection campaign or her own political future.
Cheney, who graduated from Colorado College in 1988, recalled being a political science student walking into a campus building where a Bible verse was inscribed above the entrance that read, "Ye shall know the truth and the truth shall make you free."
"After the 2020 election and the attack of January 6th, my fellow Republicans wanted me to lie. They wanted me to say the 2020 election was stolen, the attack of January 6th wasn't a big deal, and Donald Trump wasn't dangerous," Cheney said Sunday in Colorado Springs, connecting her experiences as a student to her work in the U.S. House of Representatives. "I had to choose between lying and losing my position in House leadership."
In three terms in office, Cheney rose to the No. 3 GOP leadership position in the House, a job she lost after voting to impeach Trump for the Jan. 6, 2021, insurrection at the Capitol and then not relenting in her criticism of the former president.
Cheney's speech touched on themes similar to those she has promoted since leaving office in January: addressing her work on the House committee investigating the Jan. 6 2021 attack on the U.S. Capitol and standing up to the threat she believes Trump poses to democracy. She also encouraged more women to run for office and criticized one of the election-denying attorneys who worked for Trump after the 2020 election for recent remarks about college students voting.
"Cleta Mitchell, an election denier and adviser to former President Trump, told a gathering of Republicans recently that it is crucially important to make sure that college students don't vote," Cheney said. "Those who are trying to unravel the foundations of our republic, who are threatening the rule of law and the sanctity of our elections, know they can't succeed if you vote."
In an audio recording of Mitchell's presentation from a recent Republican National Committee retreat, she warns of polling places on college campuses and the ease of voting as potential problems, The Washington Post reported.
Most students and parents in the audience applauded throughout Cheney's remarks, yet some booed. Some students opposing the choice of Cheney as speaker turned their chairs away from the stage as she spoke.
Cheney's busy speaking schedule and subject matter have fueled speculation about whether she may enter the 2024 GOP presidential primary since she left office. Candidates ranging from Florida Gov. Ron DeSantis to former South Carolina Gov. Nikki Haley have calibrated their remarks about Trump, aiming to counter his attacks without alienating the supporters that won him the White House seven years ago.
Though some have offered measured criticisms, no declared or potential challenger has embraced anti-Trump messaging to the same extent as Cheney. She did not reference her plans on Sunday but has previously said she remains undecided about whether she wants to run for president.
Though she would face an uphill battle, Cheney's fierce anti-Trump stance and her role as vice chairwoman of the House committee elevated her platform high enough to call on a national network of donors and Trump critics to support a White House run.
A super PAC organized to support of her candidacy has remained active, including purchasing attack ads on New Hampshire airwaves against Trump this month.
After leaving office and being replaced by a Trump-backed Republican who defeated her in last year's primary, Cheney was appointed to a professorship at the University of Virginia and wrote "Oath and Honor," a memoir scheduled to hit shelves in November.
Two of Cheney's five children as well as her mother are also graduates of the liberal arts college.
Cheney's speaking tour appears to be picking up. She is scheduled to appear Thursday at the Mackinac Policy Conference in Michigan.
How Are Girls in Afghanistan Continuing Their Education?
After the Taliban retook power in Afghanistan in 2021, they severely limited access to education for girls. Yet a club founded in the U.S., Flowers for the Future, helps Afghan girls keep learning through Zoom meetings with U.S. students. Two students, one Afghan, one American, describe their journey with the program and what it's taught them about grit, resilience and the importance of learning. Read the essays by Mahsa Kosha and Emily Khossaravi in the Hechinger Report. (May 2023)
Could Your International Degree be Financed by Goldman Sachs?
Quite possibly, since the elite U.S. investment bank has been investing millions in educational startups. Students from countries like India, Nigeria and Indonesia have long struggled to finance their U.S. degrees due to limited access to loans, but these new startups could disrupt that. For example, in just the first quarter of 2022, one startup, Prodigy Finance, reported a 98% increase in the number of Indian loan applicants. Nick Cuthbert of the PIE News breaks down the financial projections. (May 2023)
How Do College Sports Bring Together American and International Students?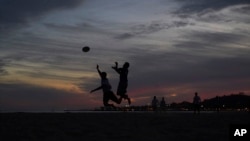 The game of Ultimate Frisbee has no referees and isn't governed by the official association for U.S. college sports. But it is intensely competitive, and students from Australia, China and elsewhere travel to the U.S. to play for the best schools. Andrew Smith of VOA Learning English reports on how college athletics can forge international friendships outside the classroom. (May 2023)
Is It Possible for Vietnamese Universities to Find Ways to Attract American Students to Study Abroad?
Vietnamese students now make up the fifth-largest group of foreign students in the U.S., according to the 2022 Institute of International Education's (IIE) annual Open Doors report. The report found 20,713 Vietnamese students studied in the U.S. in the 2021-2022 academic year.
But now some Vietnamese universities have recently begun trying to attract U.S. students to study in Vietnam, a goal that is challenging, some education experts told VOA's Khanh An. (May 2023)