The U.N. says it has raised just over a third of the money it needs to provide emergency aid in the central Philippines, 12 days after the region was devastated by Typhoon Haiyan.
Orla Fagan with the U.N. Office for the Coordination of Humanitarian Affairs in the Philippines said it will take a "concerted effort" to reach the world body's fundraising goal.
"It is 37 percent funded and 63 percent unmet. And that's for the immediate life-saving [needs], and has nothing to do with the long-term or any development that might need to come at a later stage," Fagan explained.
Some Organizations Helping Typhoon Victims
Some Organizations Helping Typhoon Victims
The U.N. is requesting $301 million to cover six months of emergency aid, including food, shelter and medical care for the hundreds of thousands displaced by Typhoon Haiyan.
Fagan, who just returned from visiting some of the affected areas, says that figure will almost certainly increase in the coming days as the full extent of the need becomes known.
"There's a lot more required than that. You've got infrastructure gone, you've got homes gone. You've got schools gone," Fagan said.
In total, $241 million has been contributed to the overall relief effort by over 40 U.N. member states. This includes what Fagan termed as "bilateral funding," which does not count towards the U.N.'s goal.
Part of this is the massive relief effort led by the United States military, which has sent an aircraft carrier and dozens of ships, planes and helicopters to deliver aid to the worst-hit areas.
Maria Elbe, a resident of East Samar province who is one of those still in dire need of
assistance told VOA's Steve Herman that she is completely dependent on outside help for basic necessities.
"We have a little rice. A little bit. Only a little. We need more. We need more, sir, we need more," she pleaded. " Water, medicine, clothes, and everything. We need, we need."
WATCH: Related video report by VOA's Steve Herman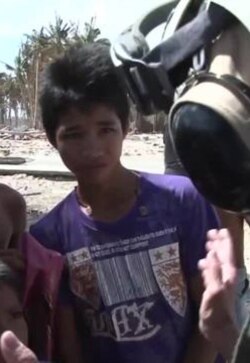 Elbe's story is not an anomaly. The
U.N. World Food Program
estimated Tuesday that it has yet to reach over 600,000 people in need of emergency food aid.
But as international attention inevitably fades and foreign news crews head home, Fagan said it may become harder to raise the funds needed to provide essential help.
"There's been a tremendous outpouring of generosity, but that needs to continue to assist people in getting back on their feet again," she noted. "I know everybody's busy and everybody has great demands now, but these people have lost everything, absolutely everything. And some of them have nothing left - they don't even have a pot to cook in. And we need to respond to their needs and ensure that they're given the basics to get them back again."
Typhoon Haiyan is one of the strongest typhoons ever to hit land. Its powerful winds and tsunami-like waves destroyed entire villages, killing at least 4,000 people.