Student Union
US Officials Warn of Chinese Influence in American Higher Education
The Trump administration is sharpening its criticism of Chinese interference in the United States, pointing to Chinese influence in American higher education.
"Beijing provides generous funding to universities, think tanks and scholars, with the understanding that they will avoid ideas that the Communist Party finds dangerous or offensive," Vice President Mike Pence said Thursday in a speech at the Hudson Institute, a conservative think tank in Washington.
"China experts in particular know that their visas will be delayed or denied if their research contradicts Beijing's talking points," he said.
The Chinese government has denied the accusations.

Visa decision
Earlier this year, the administration considered — but decided against — halting all visas to Chinese students seeking higher education in the U.S., according to the Financial Times. That would put the brakes on more than one-third of all international students in the U.S.: Chinese students constitute more than 350,000 of 1 million international students enrolled in American colleges and universities.
While the FBI maintains that "most foreign students, researchers or professors studying or working in the United States are here for legitimate and proper reasons," according to FBI documents, foreign nations "seek to improve their economies and militaries by stealing intellectual property from a world technology leader like the United States" and employ students to help achieve this goal.
"Only a small percentage is actively working at the behest of another government or organization. However, some foreign governments also pressure legitimate students to report information to intelligence officials, often using promise of favors or threats to family members back home," the agency's documents say.
In February, FBI Director Christopher Wray, at a Senate Intelligence Committee hearing on global threats and national security, testified that his agency sees widespread evidence of Chinese student spies.
Wray said the Chinese government is "exploiting the very open research-and-development environment that we have, which we all revere, but they're taking advantage of it."
At the FBI's field office in New York, Charlie McGonigal, a special agent in charge of the counterintelligence division, echoed Wray.
"In the United States, our academic institutions are very open," said McGonigal. "There's a lot of research and development at major universities in the United States that a foreign government would look to exploit by sending students to study at these universities."
In interviews with VOA, most young Chinese say they come to the U.S. for the quality of education and freedom of expression. A diploma from a U.S. college or university is not unlike an American student getting a degree from an Ivy League or other well-known, prestigious school.
Arrivals drop
But that appears to be changing. After a decade of record immigration year after year, the rate at which international students are arriving has slowed. Enrollment figures show about 10,000 fewer new students came to the U.S. in 2017.
Adding to the slowdown are increased competition from universities and programs in other nations and the high cost of schools in the U.S., according to the Institute for International Education.
Additionally, as the Chinese economy continues to expand, there are more career opportunities for nationals who want to return home after graduation in the U.S.
"Countries and multinational employers around the world are competing to attract top talent. As more countries become active hosts of international students and implement national strategies to attract them, the competition … will only intensify," said IIE President Allan E. Goodman.
In June, the Trump administration started limiting Chinese students who study in high-tech fields to one-year visas. At the same time, the U.S. State Department issued a policy giving U.S. consular officers the power to limit how long visas are valid for Chinese students, rather than the usual practice of issuing them for the maximum length.
In July, the Department of Homeland Security proposed a rule that would increase by $150 fees charged on student F and M, or nonimmigration, visa applicants.
"This new policy would be bad for institutions and bad for the nation. While apparently aimed at Chinese students in certain STEM fields, this would have a chilling effect on our ability to attract international students from all countries," wrote American Council on Education President Ted Mitchell in a statement about the science, technology, engineering and math concentrations.
'Broad brush' approach
"We fear that applying a broad brush of suspicion to such a large group sends a message that our nation no longer welcomes talented students and scholars from across the globe," he wrote.
Patrick Chovanec, adjunct professor at the Columbia University School of International and Public Affairs in New York and a former business professor at Tsinghua University in Beijing, tweeted in May that he understood the "vulnerabilities" in the exchange systems between China and the U.S.
"But having an open economy and society has actually worked pretty well for the U.S. in the long run," he said. "I'm still willing to bet on it."
International students bring $36.9 billion and 450,000 jobs to the U.S., IIE reports. Chinese students alone "contributed $12.55 billion to our national economy in 2016," Mitchell said.
The top institutions hosting international students in the U.S. are New York University (17,326), University of Southern California (14,327), Columbia University (14,096), Northeastern University (13,201), Arizona State University (13,164), University of Illinois at Urbana-Champaign (12,454), University of California at Los Angeles (12,199), Purdue University in Indiana (11,288), University of Texas-Dallas (9,305) and Penn State University (9,134).
International students in the U.S. make up 5.3 percent of the total student population in the U.S.
See all News Updates of the Day
US College Football Traditions Can be Lost on International Students
American-style football is a big part of college life on many campuses – with chants, songs, rivalries and homecoming celebrations.
But the celebration can be lost on international students, who aren't typically familiar with the sport. The World reports Colorado State University offers a noncredit course to help students understand American football. (November 2023)
Donor Threatens to Withdraw $100 Million From University After Congressional Hearing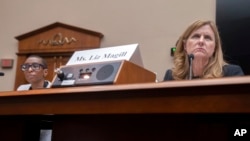 A University of Pennsylvania donor has threatened to withdraw a $100 million donation from The Wharton School, the university's business school, following the appearance of the university's president before Congress.
University of Pennsylvania President Elizabeth Magill appeared before Congress Tuesday along with leaders of two other Ivy League schools - Harvard President Claudine Gay and Sally Kornbluth of MIT.
During a hearing, none of the presidents answered "yes" or "no" to the question: "Does calling for the genocide of Jews violate [your university's] code of conduct or rules regarding bullying and harassment?"
All three presidents told the panel that they did not condone antisemitism and were taking steps to prevent it on campus, but on the specific question they cited free speech rights and said any discipline would depend on the specific circumstances.
Hate speech and acts — both antisemitic and Islamophobic — have erupted on U.S. college campuses since the Hamas-Israel war began in October.
All the presidents have received criticism because of their refusal to give a definitive answer to the question.
Stone Ridge Asset Management CEO Ross Stevens says he will withdraw his donation, now worth $100 million, to the Wharton School's Stevens Center for Innovation in Finance if Magill is not removed from office.
Proposal Would Remove Student Aid for Those Who Support Some Palestinian Groups
A Florida lawmaker has proposed eliminating scholarships, tuition breaks and fee waivers for students who are suspected of "promoting terrorist organizations."
According to WOKV television, the bill appears to be in line with Florida efforts to disband pro-Palestinian groups on college campuses. (November 2023)
International College Student Enrollment in US Soars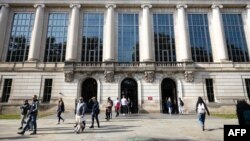 International student enrollment at U.S. schools has bounded back from pandemic lows, Forbes reports. It increased 12% in 2022-23, the fastest growth rate in more than 40 years. Read the full story here. (November 2023)
US Lawmakers Grill University Presidents About On-Campus Antisemitism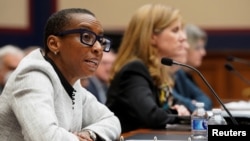 The presidents of Harvard, the University of Pennsylvania, and the Massachusetts Institute of Technology were questioned by House lawmakers on Tuesday over whether their administrations are doing enough to combat the wave of antisemitism that has swept their campuses as the Israel-Hamas war rages.
Republican Representative Virginia Foxx said the three presidents were called to testify because "we heard in particular that the most egregious situations have occurred on these campuses."
Claudine Gay, president of Harvard University, faced particularly difficult lines of questioning from congressional Republicans, including one fraught exchange with Representative Elise Stefanik, who demanded that Gay resign.
Stefanik, a Harvard alumnus herself, grilled Gay over whether the university would rescind admission offers to students who support Hamas' murderous beliefs.
Gay pushed back, saying she would not commit to punishing students simply for expressing their views, even if she finds them "personally abhorrent," apparently reversing university policy.
In 2017, Harvard reneged on admission offers for 10 would-be students after it came out that they circulated racist memes in a group chat.
The theme of Gay's testimony was her dual commitment to "combating hate while preserving free expression."
Gay said her administration would only punish "hateful, reckless, offensive speech" when it crosses the line into physical violence or targeted harassment.
Foxx, the panel's chair, railed against Gay and the other university leaders, claiming that "institutional antisemitism and hate are among the poisoned fruits of your institutions' cultures."
Republican lawmakers repeatedly criticized progressivism and tied it to antisemitism in higher education.
All three university presidents outlined their strategies for ensuring student safety and open discourse on the Israel-Hamas war.
"As an American, as a Jew, and as a human being, I abhor antisemitism. And my administration is combating it actively," Sally Kornbluth, president of MIT, said, adding that "problematic speech needs to be countered with other speech and education."
Kornbluth said free speech that promotes harassment or incites violence is not protected by the university, but those who try to shut down campus protests are essentially advocating for unworkable "speech codes."
Harvard and UPenn have struggled. Both schools found themselves under investigation by the Department of Education over complaints of antisemitism on campus.
"This is difficult work, and I know I have not always gotten it right," Gay said of her efforts to promote free speech and inclusion. She noted the difficulty of balancing the concerns of different groups, including Harvard's Muslim community, which Gay noted faces the threat of rising Islamophobia.
"During these difficult days, I have felt the bonds of our community strained," Gay told lawmakers.
UPenn President M. Elizabeth Magill came under fire for the Palestine Writes Festival, an event hosted at her university in September that was a flashpoint of antisemitism, according to a complaint submitted to the Department of Education.
Magill condemned antisemitic rhetoric at the festival but maintained that measures had been instituted to ensure student safety.
The presidents made clear to the Republican-run House Committee on Education and the Workforce that their schools have taken steps to prevent harassment and bullying, including public announcements.
The president of Columbia was invited but did not attend, citing a scheduling conflict, Foxx's office said.
November polling by the Anti-Defamation League and Hillel found that, since Oct. 7, 46% of Jewish students felt safe at their colleges, a marked drop from 67% before the war. Students across the nation said they were wary of walking around their campuses wearing a Star of David necklace, kippah or other emblems of Judaism.

In late October, an upperclassman at Cornell was taken into federal custody after allegedly making online posts promising to kill any and every Jew he saw on campus.

The Council on American-Islamic Relations and other advocacy groups reported that hate crimes against Muslim students were also on the rise.

Last month, a white man allegedly shot three Palestinian American college students in Burlington, Vermont. And, at Stanford, an Arab student was struck in a hit-and-run as the driver shouted, "F— you people!" according to witnesses.
Pro-Palestinian protesters have been doxxed — their names and pictures paraded around their campuses on mobile billboard trucks — in what activists say are attempts to intimidate them into silence.