Student Union
US Visa Fees for Foreign Students Going Up
International students could soon be paying more for visas to study in the U.S.
The Department of Homeland Security proposed a rule on July 17 that would increase fees charged by the Student and Exchange Visitor Program (SEVP) and the Student and Exchange Visitor Information System (SEVIS).
The I-901 SEVIS fee — which all F, M and J (exchange student) visa applicants pay — would increase from $200 to $350 for F and M visa applicants. The fee for most J visa applicants would increase from $180 to $220. For a four-month J visa, the fee remains $35 per visa.
Schools that renew SEVP certification, and schools that change their addresses, would also see new fees and fee increases. To be certified, schools would pay an additional $1,300.
DHS said the fee increases are needed to address funding gaps.
"If the program continues to operate at current fee levels, SEVP anticipates it will experience an average annual shortfall of $68.9 million beginning in 2019. The proposed fees help eliminate this risk and allow SEVP to continue to achieve its priorities — enhancing national security and preventing immigration fraud," a department bulletin reads.
"As someone who works in international education, it would be helpful to understand why the increases would be justified other than the overall shortfall of $68.9 million beginning in 2019. What is causing the increase? Hiring more agents?" commented user Michael Dixon to Inside Higher Ed about the rule.
The path to a student visa is complex. SEVP "is a part of the National Security Investigations Division and acts as a bridge for government organizations that have an interest in information on nonimmigrants whose primary reason for coming to the United States is to be students," says a U.S. federal website.
SEVP "manages schools, nonimmigrant students in the F and M visa classifications and their dependents" for DHS, the site says. The State Department "manages exchange visitor programs, nonimmigrant exchange visitors in the J visa classification and their dependents. Both SEVP and the State Department use SEVIS to track and monitor schools; exchange visitor programs; and F, M and J nonimmigrants while they visit the United States and participate in the U.S. education system."
SEVIS is a database with information on international and exchange students administered by U.S. Immigration and Customs Enforcement (ICE).
The rule proposed Wednesday comes amid heightened concern about U.S. immigration policy.
A month ago, the Trump administration limited Chinese students in high-tech fields to one-year visas. And the Supreme Court recently upheld the travel ban, limiting visitors from several majority-Muslim countries.
The public can comment on the rule until Sept. 17, 2018. When the comment period ends, the rule undergoes regulatory review before being adopted or rejected, a process that can take several months.
See all News Updates of the Day
Are Declining Enrollments in the US a Hidden Opportunity for Students Abroad?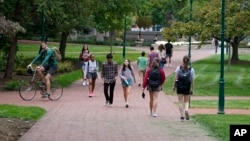 Allen Goodman, CEO of the Institute for Higher Education, writes that empty seats at U.S. colleges could drive a boom in international education. The U.S. has lost market share among host countries, but unlike its competitors, its university system is so large and underutilized that it could easily recruit more students. Because international students become "friends for life" with the U.S., and bring valuable expertise (and tuition dollars), Goodman argues the U.S. should recruit 2 million students by the end of the decade.
Weigh his argument for yourself in Times Higher Education. (May 2023)
What Could a Bitter Lawsuit Tell Us About International Education in the US?
In 2010, the University of South Florida signed a 30-year contract with INTO, a company that provides support services for international students. INTO built a "pathway program" at the university that taught students English and basic academic skills before they began their higher-education degrees. But after years of enrollment declines, the university ended the contract, and now both parties are fighting an "acrimonious" court case. The news comes as many of INTO's programs at other schools are being shuttered. While management and financial issues may play a role, so does the post-pandemic educational landscape: pathway programs can now be easily offered online.
Liam Knox of Inside Higher Ed has more. (May 2023)
Croatian Student Earning Simultaneous Ph.D.s in US, Croatia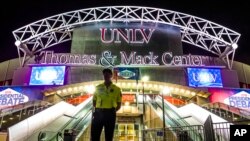 A Croatian student is earning two Ph.D.s simultaneously, one in Croatia and one at the University of Nevada, Las Vegas.
Borna Nemet spends his days at UNLV studying educational leadership and effectiveness. At night, he uses Zoom to teach students at the University of Zagreb in Croatia. Read the full story here. (May 2023)
It's Graduation Season – Who Might Speak at Yours?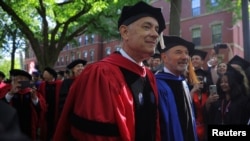 U.S. graduation ceremonies usually feature a public figure who offers advice to young people starting their careers. This spring, graduates have heard from President Joe Biden, actor Tom Hanks, Nobel Peace Prize winner Maria Ressa and even Ukrainian President Volodymyr Zelenskyy. Finnish Prime Minister Sanna Marin, who became the youngest prime minister in the world at age 34, told her audience that change cannot wait, even at their age. "To change things," she said, "you have to take over."
Read the story from Dan Friedell of VOA Learning English. (May 2023)
What Did Justin, a Golden Retriever Mix, Do to Earn a Diploma?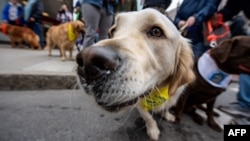 Justin is a service dog and accompanied his owner (who graduated with honors) to every single class for four years. The student's university honored the dog's hard work with his very own diploma, which he accepted, tail wagging, in front a cheering stadium of other graduates.
See Justin's walk across the stage in this story from Bill Chappell of NPR. (May 2023)