Student Union
What Could a Bitter Lawsuit Tell Us About International Education in the US?
In 2010, the University of South Florida signed a 30-year contract with INTO, a company that provides support services for international students. INTO built a "pathway program" at the university that taught students English and basic academic skills before they began their higher-education degrees. But after years of enrollment declines, the university ended the contract, and now both parties are fighting an "acrimonious" court case. The news comes as many of INTO's programs at other schools are being shuttered. While management and financial issues may play a role, so does the post-pandemic educational landscape: pathway programs can now be easily offered online.
Liam Knox of Inside Higher Ed has more. (May 2023)
See all News Updates of the Day
International Students Should 'Know How Majors and Grading Work'
The U.S. college system is different from most others: Students are graded from A to F, and often choose their course of study — their "major" — one to two years after enrolling. Anayat Durrani of U.S. News & World Report explains the differences. (August 2023)
Hoping to Study in the US? Here's How to Secure Housing
AfterSchool Africa takes a look at the finer points of arranging accommodations for international students. Among the considerations: How close is the housing to campus? How safe is it? What about its proximity to public transit?
Why Aren't Americans Going to College?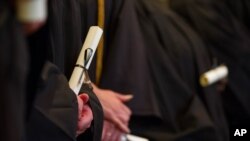 American college enrollments are falling, even as they are increasing in comparable countries. One culprit could be the cost: while college graduates earn more, the debt they accumulate often wipes out much of that advantage.
Paul Tough investigates for The New York Times Magazine. (September 2023)
Public Universities Went on Spending Spree ... And Passed the Cost to Students
Federal Student Aid Application in US is Changing
Every year, most American college students fill out the Free Application for Federal Student Aid. It determines how much need-based assistance you can receive and is also important for many scholarships, grants and other opportunities.
Now, the format is being simplified, as Cheryl Winokur Munk of The Wall Street Journal explains. (August 2023)